Home Page Content
Welcome
Welcome to St. Paul's Lutheran Church
God made Him who had no sin to be sin for us...
Special Announcements
Midweek and Sunday School classes for kids are returning soon. Click here for more information.
Sunday Service
Join us for worship at church Sundays at 8 a.m. or 10:30 a.m. Our early service is also streamed live on Facebook.
Sun

day

Mon

day

Tue

sday

Wed

nesday

Thu

rsday

Fri

day

Sat

urday
St. Paul's is a member of the Lutheran Church Missouri Synod and has been part of the local community of Marion, Iowa, for over 90 years.
What's Happening
On September 16 at 8:30 AM - 1:00 PM, there will be an Issues as We Age workshop held at Bethany Lutheran Church in Cedar Rapids.

The joy of the Christian Gospel enables us to welcome God's blessings even as life is ending. Hear and learn how advance directives, family conversations, and funeral preparations can courageously and compassionately affirm the sanctity of life even in situations of pain, impairment, and advancing age. We'll also consider the benefits and drawbacks of hospice care and organ donation as opportunities for confessing the faith. And we'll explore suggestions for upholding life in our
congregations and communities. Contact: Pam Krog | Pam@lcmside.org Click here for agenda and registration.

All kids from age 3 through 12th grade are invited to Sunday School every week at 9:15 a.m. between the two church services. Join us in singing praises, studying God's Word, and learning about what He has done for us. Click here to find out what we are learning.

Kids age 3 to 6th grade are invited to join us on Wednesday evenings from 6 pm to 7 pm. Classes begin September 13, and you may register here. A Bible study for adults focusing on 1 Peter, 1 John, and Ephesians will run simultaneously at the church.

Need a card for a birthday, anniversary, get well, or any other special occasion? Check out the card rack in the narthex. Cards are just 50 cents each and you can drop the money in the box on the rack.
Worship
Worship of God and our Savior Jesus Christ is at the center of everything we do at St. Paul's. Learn more about what what this means and what we do at our services on the following pages:
The Divine Service: what we do on Sunday mornings, Wednesday evenings in Advent and Lent, and special holidays.
Worship Schedule: times for services throughout the year.
Music Ministry: Click here for music ministry information.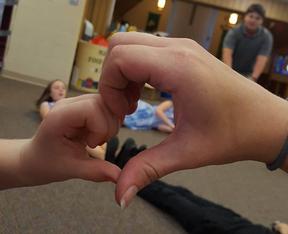 Looking for something for the kids to do on Wednesday nights? Midweek classes run for ages 3 through 6th grade, Confirmation for 7th-8th, and CREW (youth group) for our high school population - plus Adult Bible Study from 6-7, so there is something for everyone!
Begin with Chapel at 6pm, then move to class time with interactive learning and teachers dedicated to making your students and their Christian education a priority.